Ron's Newsroom
Sen. Johnson Comments on PM Netanyahu's Remarks
Last week Senator Johnson encouraged all members of Congress to attend Israeli Prime Minister Benjamin Netanyahu's address on Tuesday morning. After attending the address himself, Senator Johnson called the speech "extraordinary," citing the way Netanyahu simply "laid out the reality of the situation." Read more here.

Photo: Getty Images
Chairman Johnson Moves Nine Bipartisan Bills Out of Committee
Committee Chairman Sen. Johnson and Sen. Tammy Baldwin (D-Wis.) successfully amended the Inspector General Empowerment Act to require inspectors general to post all reports on their websites within three days of their being submitted in final form to the head of an agency. Videos of the discussion on amendments are available here and here. Read more here.
Sen. Johnson Introduces Resolution Honoring Boris Nemtsov
Sen. Johnson, Sen. Jeanne Shaheen (D-N.H.) and a bipartisan group of 15 Senate cosponsors called Monday for strong action after the murder of Russian opposition leader Boris Nemtsov in February in Moscow. Read more here.
Sen. Johnson Holds European Subcommittee Hearing
Expert witnesses told the Senate Foreign Relations Committee's Subcommittee on Europe and Regional Security Cooperation on Wednesday about aggression by the Putin regime against Ukraine and other neighbors of the Russian Federation. The hearing, said Johnson, was about "making sure that we, here in America, fully understand how dire the situation truly is." Read more here.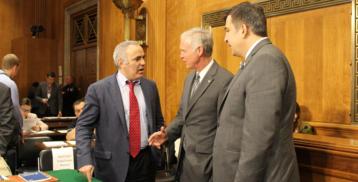 Watch full hearing here.
Ron on the Radio
Central Time on Wisconsin Public Radio: Listen here.
The "Big" John Howell Show on 89 WLS: Listen here.
Sound Off w/ Brad Bennett on 710 WDSM: Listen here.
Up and At 'Em on Twin Cities News Talk 1130: Listen here.
Connect with Ron's Staff
Sen. Johnson announced Monday that his staff will be available for mobile office hours as listed below. These office hours allow constituents to meet with the senator's staff to request assistance with a federal agency or regarding other federal matters.
Friday, March 13, 3 p.m. - 4 p.m.
Minong Village Hall
125 5th Ave., Minong