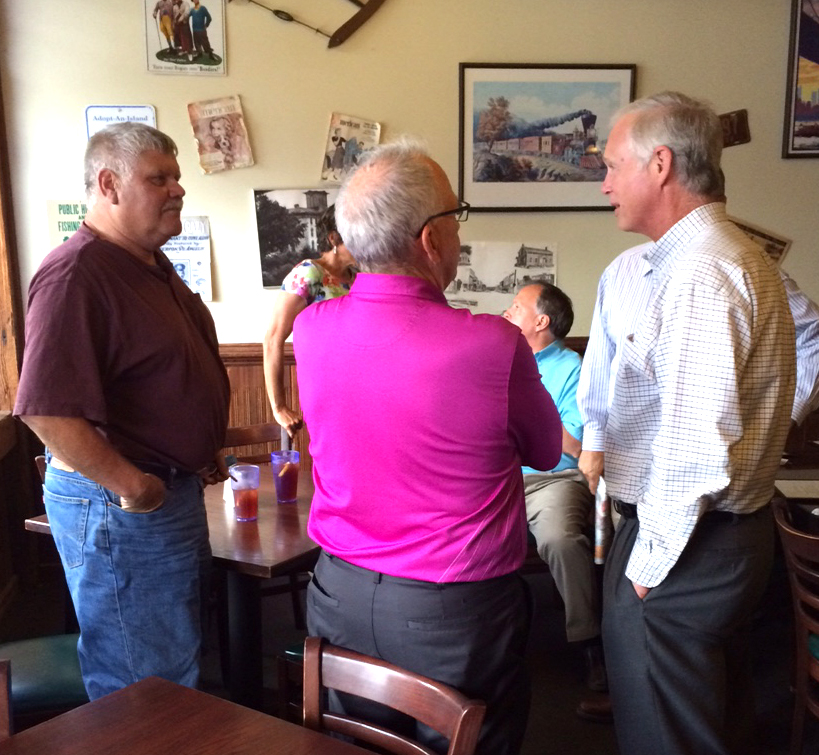 Ron's Week in Wisconsin
Ron continued his travels around Wisconsin this week, holding several public town hall meetings and visiting multiple workplaces, a construction site, an agriculture event, and restaurants. Check out some of Ron's highlights below!
Southwest Wisconsin
Crawford, Grant and Iowa Counties

Ron and station manager Dan Moris at the 94.3FM WQPC radio station in Prairie du Chien.

Ron listens to the concerns of people at Fort Mulligan's Grill Pub in Prairie du Chien.

Ron stops by The Dousman House in Prairie Du Chien. An amazing place!

Ron stops for lunch at Home-A-Gins restaurant in Mount Hope.


Ron samples popcorn at Rural Route 1 Popcorn in Montfort.

Ron speaks to a great crowd at Midwestern BioAg Field Day at Otter Creek Farm in Avoca.
Town Hall Meetings

Ron holds a joint public town hall meeting with Congressman Sean Duffy at Wausau Window and Wall Systems.

Ron listens to people at a public town hall meeting at Black River Falls City Hall in Jackson County.

Ron answers questions at a public town hall meeting at Wisconsin Indianhead Technical College in New Richmond.
Around the State

Ron meets with people at the Adams County Community Center.

Ron tours the Wausau Window and Wall Systems plant in Marathon County. The company's products include blastproof glass for military installations.

Ron examines the progress of the St. Croix Crossing bridge over the St. Croix River that will connect Wisconsin and Minnesota.

Ron chats with people at the Colfax Lutheran Church Pancake Breakfast in Dunn County. Seated on the left is state Representative Tom Larson of the 67th District.
Coming Up
Check out Ron's travel plans next week. He may be in your area!
TUESDAY, AUG. 25, 2015
What: Farm Technology Days
Time: 11:50 a.m. – 1 p.m.
Location: 5966 Town Hall Drive, Sun Prairie
Note: Sen. Johnson will meet and speak with visitors and exhibitors at this agricultural event.
What: TASCET Inc.
Time: 1:30 p.m. – 2:30 p.m.
Location: 1 S. Pinckney St., Madison
Note: Sen. Johnson will hear from company members.
WEDNESDAY, AUG. 26, 2015
What: Menominee Tribal Enterprises Mill and Forestry Tour
Time: 1 p.m. - 3 p.m.
Location: Hwy 47 N., N3522 Cottage Ave., Neopit
Events are subject to change. Go to Ron's website at www.ronjohnson.senate.gov or his Facebook page here for updates.