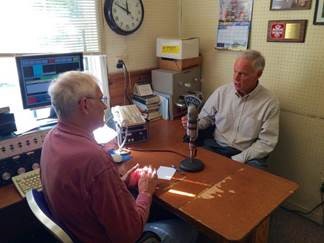 Ron's Week
In Case You Missed It
Ron Holds Committee Hearing on VA Whistleblower Retaliation
"I care deeply about the intimidation, the retaliation, the reprisal coming from the Office of Inspector General."
"The VA has a real cultural problem on its hands when it comes to whistleblower retaliation," Ron said after the hearing, "the most troubling aspect being that, in the end, it's the veterans who ultimately suffer when the courageous employees who expose wrongdoing are punished." Read more here.
The full hearing video can be seen here.
Pope Francis visits Washington
"The pope had a message of hope — one that unifies us," Ron told WBAY-TV 2 in Green Bay after Pope Francis' address to Congress this week. "Let's find the areas of agreement, and when you really concentrate on the shared goals, shared purposes, that's really good for a start to looking for solutions for some of the enormous challenges we face."
Ron and Jane Johnson waiting to welcome Pope Francis at the White House arrival ceremony.
Ron speaking with WBAY on the pope's visit. Ron also spoke with WISN-TV 12 in Milwaukee and with Newsmax.

Ron Visits Door County
Door County has long served as a vacation spot for Wisconsinites and others from around the Midwest. Last weekend, Ron made a few stops on the peninsula, including Wilson's Restaurant and Ice Cream Parlor in Ephraim, Door County Coffee & Tea Co. in Carlsville, and WDOR FM and AM in Sturgeon Bay.

The last senator to come for an in-studio interview at WDOR was Sen. Bill P roxmire.

Ron met employees of Wilson's Restaurant and Ice Cream Parlor.
.

Ron also met with Wilson's owners, Roy and Diane Elquist, and their daughter, general manager: Sarah Martin.


Ron and the founders of Door County Coffee & Tea Co., Vicki and Doug Wilson.

Upcoming Events
Mobile Office Hours
Monday, Sept. 28, 11 a.m. – noon
Menominee Nation Tribal Office Building
W2908 Tribal Office Loop Road, Keshena
Tuesday, Sept. 29, 1 p.m. – 2 p.m.
Norvado Telecommunications, Conference Room
43705 U.S. Highway 63, Cable
Wednesday, Sept. 30, 3 p.m. – 4 p.m.
Ashland County Courthouse, Room 204
201 W. Main St., Ashland
WEDNESDAY, SEPT. 30
What: Homeland Security and Governmental Affairs Committee hearing: "A Review of the Department of Education and Student Achievement"
Time: 8:30 a.m. CT
Location: 342 Dirksen Senate Office Building, Washington