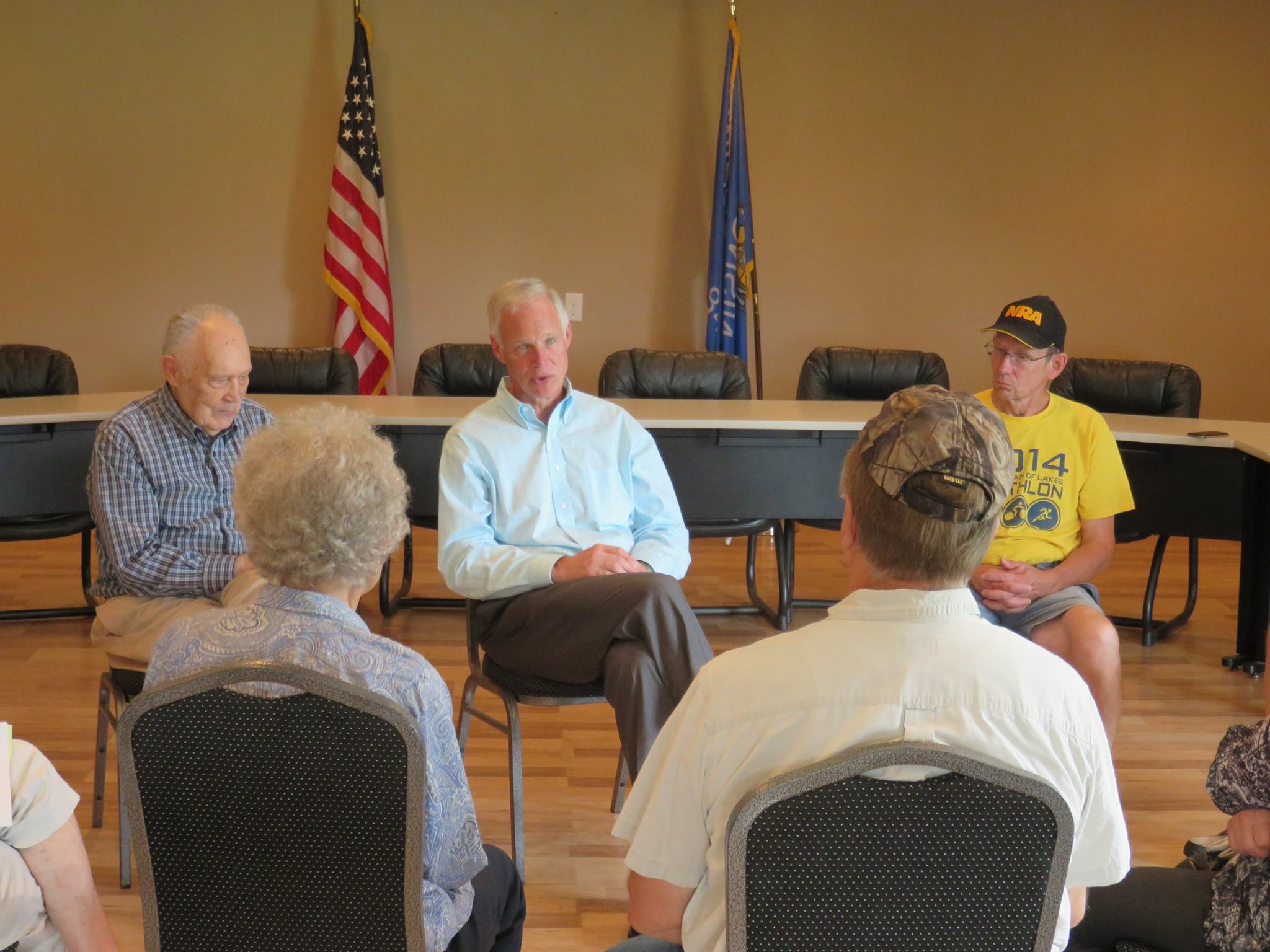 Ron's Week in Wisconsin
August was a fun month for Ron. He traveled all over Wisconsin, spending time in 34 counties. Check out some of his stops from this week below.
Southeastern Wisconsin
Ron visited Wirtz Beverage Wisconsin, a beer, wine and spirts wholesaler in Hartland, this week, speaking with people there about federal finances and policy. He also visited Kenosha's ASYST Technologies, a company that engineers automotive lighting mechanisms. He discussed legislative issues and small business opportunities with employees.
Ron visits Wirtz Beverage Wisconsin in Waukesha County.

Ron listens to employees of ASYST Technologies in Kenosha.
Northeastern Wisconsin
Ron attended a long-standing Wisconsin tradition this week: the Florence County Fair. He enjoyed meeting other fairgoers as well as the Fairest of the Fair and her junior counterpart. Afterwards, Ron headed to Forest County, where he held a public town hall in Crandon.
Ron gets to know fellow fairgoers at the Florence County Fair.

Ron meets the Fairest of the Fair and Junior Fairest of the Fair.

Ron holds a public town hall meeting at the Hotel Crandon Restaurant and Bar in Forest County.
Northwestern Wisconsin
Ron was in Price, Barron and Polk counties, holding town halls in Prentice, Chetek and St. Croix Falls. Earlier, in Lincoln County, he stopped in Merrill and met with small business owners and employees at Chips Burgers.


Ron meets with people at lunch at Chips Burgers.

Ron listens to the concerns of people at the Prentice Village Hall in Price County.

Ron answers questions in St. Croix Falls, at the National Scenic Riverway Visitor Center in Polk County.
Coming Up
Check out Ron's upcoming plans in Wisconsin. He may be in your area!
FRIDAY, SEPT. 4, 2015
What: Public town hall in Richland Center
Time: 1 p.m. - 2 p.m.
Location: Richland Center City Hall, 450 S. Main St., Richland Center
What: Public town hall in Baraboo
Time: 3:30 p.m. - 4:30 p.m.
Location: Baraboo Municipal Building, 135 4th St., Baraboo
SATURDAY, SEPT. 19, 2015
What: Academy Day 2015 – Do you know someone in need of a service academy nomination? Interested high school students, teachers and parents should join Sen. Johnson along with Sen. Baldwin, Rep. Grothman, Rep. Ribble, Rep. Kind, Rep. Duffy and Rep. Pocan and meet with representatives of the U.S. military academies at this year's Academy Day 2015.
Time: 9:30 a.m. - 12:30 p.m.
Location: Experimental Aircraft Association Aviation Center, 3000 Poberezny Road, Oshkosh
Go to Ron's website at www.ronjohnson.senate.gov or check his Facebook page here for event updates.