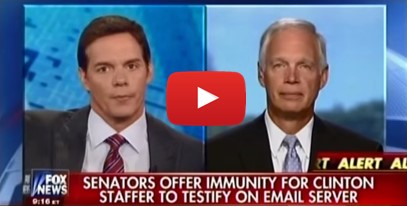 The Senate is back in session
Ron enjoyed his time traveling around Wisconsin to meet and listen to people during the August recess, but he had to head back to Washington this week. The Senate came back into session on Tuesday. Check out some highlights of what he has been doing below.
Iran Deal
Ron spent time on the Senate floor Thursday afternoon voicing his strong opposition to the Iran nuclear deal. Click below to watch his full remarks.
"I will vote to disapprove this very bad deal," Ron reiterated to his colleagues on the Senate floor.
Border Jobs for Veterans Act
The Senate unanimously passed the Border Jobs for Veterans Act this week — a common-sense bipartisan piece of legislation that Ron proudly cosponsored as chairman of the Senate Homeland Security and Governmental Affairs Committee.
"This bill gives former service members an opportunity to continue serving by ensuring the Department of Homeland Security and the Department of Defense work together to identify these qualified applicants and provide DHS with the best candidates to fill vacancies in remote ports of entry along our borders," Ron said. To read his full remarks on the legislation, click here.
Fair Chance Act
Ron, among a group of bipartisan and bicameral members of Congress, introduced the Fair Chance Act this week. The legislation gives formerly incarcerated citizens a fairer chance at securing employment. Informally, this idea is known by the phrase "ban the box," referring to something often seen on job applications, a box applicants must check if they previously were convicted of a felony or other crime. The Fair Chance Act eliminates the practice.
"Over the last several months, I have had the opportunity to meet with former incarcerated offenders back in Wisconsin. What has struck me most is how challenging we make it for those who truly want to turn their lives around. I want to help make their transition easier," Ron said.
Investigating Hillary Clinton's email server
As chairman of the Senate Homeland Security and Governmental Affairs Committee, Ron, along with the chairman of the Judiciary Committee, Chuck Grassley, considered potential steps to obtain the testimony of Hillary Clinton's employee Bryan Pagliano. To read the chairmen's letter sent to Pagliano this week, click here.

Ron discusses the issue with Bill Hemmer this week on Fox News Channel's "America's Newsroom."
Remembering 9-11
Ron spent Friday morning in Shanksville, Pa., honoring the 40 passengers and crew members of United Flight 93 who lost their lives 14 years ago to the terrorist attacks of 9-11.
"We must remember the Americans who died 14 years ago. They represent the victims of terrorism. We must also remain vigilant to prevent similar attacks against America. Assuring the safety of all Americans will remain the top priority of the Senate Homeland Security and Governmental Affairs Committee," Ron said in an official statement on Friday. To read his full remarks, click here.
Upcoming Events
WEDNESDAY, SEPT. 16
What: Homeland Security and Governmental Affairs Committee hearing, "A Review of Regulatory Reform Proposals."
Time: 9 a.m. CT
Location: 342 Dirksen Senate Office Building, Washington
SATURDAY, SEPT. 19
What: Academy Day 2015 – Do you know someone in need of a service academy nomination? Interested high school students, teachers and parents should join Sen. Johnson along with Sen. Baldwin, Rep. Grothman, Rep. Ribble, Rep. Kind, Rep. Duffy and Rep. Pocan and meet with representatives of the U.S. military academies at this year's Academy Day 2015.
Time: 9:30 a.m. - 12:30 p.m.
Location: Experimental Aircraft Association Aviation Center, 3000 Poberezny Road, Oshkosh
WEDNESDAY, SEPT. 23
What: Apprenticeship Fair – There will be more than 40 booths on carpentry, construction, electrical, plumbing, metal trades, sheet metal, welding, steam fitting, HVAC-R, machining, pipefitting, and millwright work.
Time: Noon – 4 p.m.
Location: Fox Valley Technical College, Appleton Campus Rooms A170 and C190 (use entrances 15 & 16), 1825 N. Bluemound Drive, Appleton