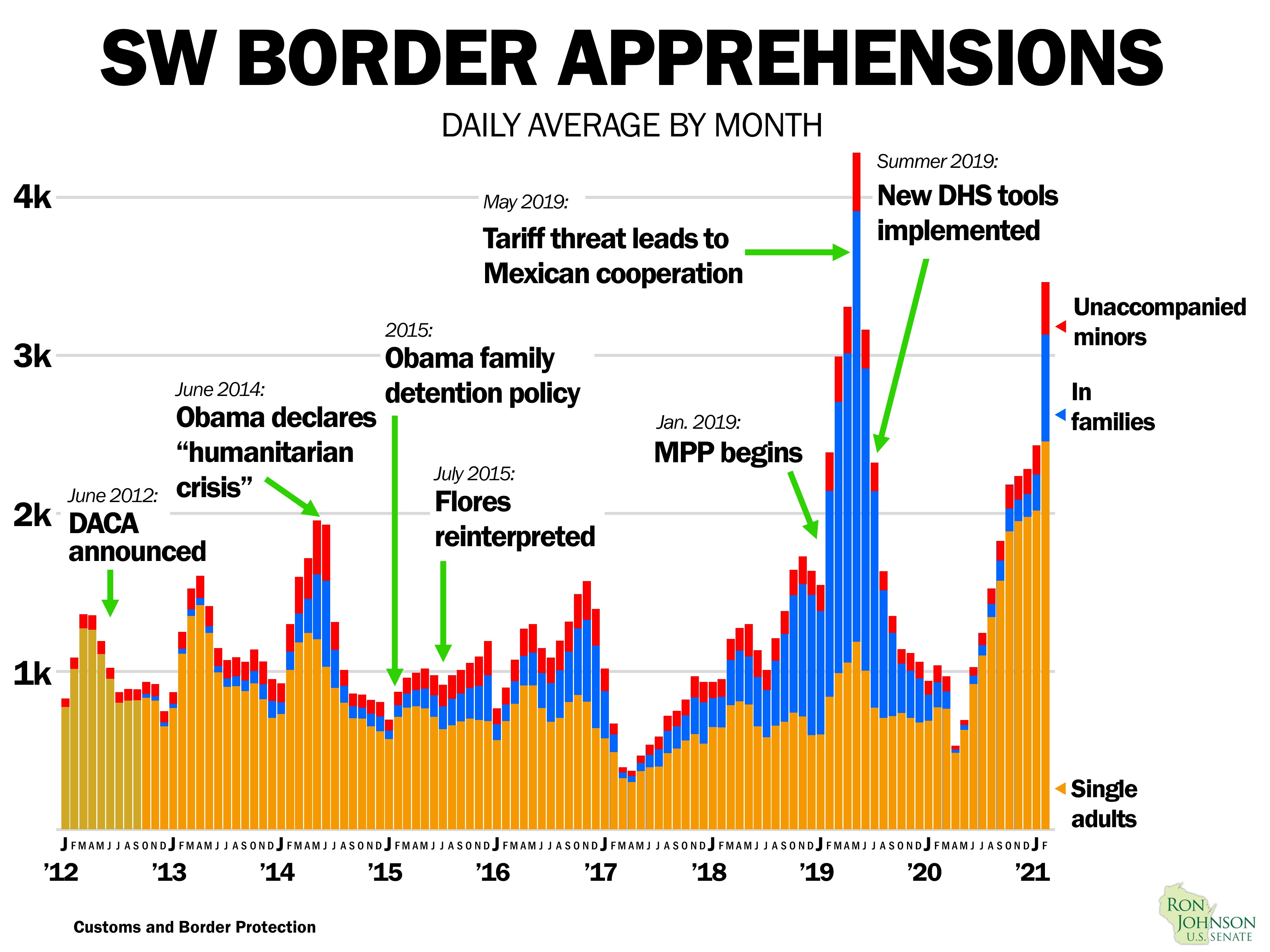 WASHINGTON — U.S. Sen. Ron Johnson (R-Wis.) will travel to the southwest border this week with his colleagues to evaluate the humanitarian and security crisis that President Biden refuses to acknowledge and that is a direct result of the reckless policies enacted under his administration. Ahead of his trip, Senator Johnson released the following information that sheds light on the dangers of open borders and inhumane immigration policy.
Updated Data on Apprehensions at the Southwest Border
Senator Johnson released a graph today that includes updated Customs and Border Protection (CBP) data on apprehensions at the southwest border from 2012 to the present. This graph shows the apprehensions of unaccompanied minors (red), persons traveling in families (blue), and single adults (orange). The graph documents the daily average of apprehensions by month for those categories of people in the last nine years. The graph also details relevant events occurring during that time period that affected U.S. border security and immigration policies. Apprehensions are now at a level not seen since May of 2019, and continue to increase.
The graph can be viewed below and here.
Key Testimony and Information from Border Security Hearings
During Senator Johnson's chairmanship of the Senate Committee on Homeland Security and Governmental Affairs (2015-2020), he held over 30 hearings and roundtables on border security and immigration issues. The public record created through this thorough fact-gathering process is a useful source of information and can assist the current administration and policymakers in better understanding the conditions at the border as well as the effectiveness of previous border security policies. Below are several examples of key information from these hearings and roundtables regarding the ongoing crisis at the border:
May 18, 2018: Transnational criminal organizations continue to profit off of smuggling operations at the border:
"To be clear, human smuggling operations are lining the pockets of transnational criminal organizations. They are not humanitarian endeavors. Smugglers priorities have profits over people, and when aliens pay them to get here, they are contributing $500 million a year, or more, to groups that are fueling greater violence and instability in America and the region."
- Kirstjen M. Nielsen, Secretary, Department of Homeland Security.
April 4, 2019: Expedited Removal deterred illegal border crossings
"Back then, 2003, there were about 5,200 Brazilians getting into Mexico and coming into America illegally through the southwest border. 2004 it was 8,800. In 2005 that more than tripled to 31,000. And Secretary [Michael] Chertoff realized this is a problem, he had to do something about it. So, in response, DHS dedicated bed space, they detained and they initiated a program of expedited removal of the Brazilians called Texas Hold 'Em. By doing that, the next year only 1,400 people came. And to quote Secretary Chertoff, he said, 'The word spread surprisingly swiftly; within its first 30 days, the operation had already begun to deter illegal border crossings by Brazilians. In fact, the number of Brazilians apprehended dropped by 50 percent. After 60 days, the rate of Brazilian illegal immigration through the sector was down 90 percent, and it still significantly depressed all across the border. In short, we learned that a concentrated effort of removal can actually discourage illegal entries by non-Mexicans on the southwest border.'"
- Chairman Ron Johnson
April 9, 2019: Smugglers will exploit surges at the border to move drugs:
"The bad guys know this. They know our resources are stretched thin in addressing the humanitarian issue, which undermines our border security operations. They direct the movement of large groups into certain border areas as a diversion to facilitate the smuggling of drugs. This is an issue of both national security and officer safety."
- Rodolfo Karisch, Rio Grande Valley Sector Chief Patrol Agent, U.S. Border Patrol, Department of Homeland Security
June 26, 2019: Adults will purchase children to gain entry into the U.S.:
"There's no better case illustration when a 51-year-old Honduran man confessed prior to testing that he was not the father of the infant child he initially claimed to be his son and purchased the child for $84."
- Gregory Nevano, Assistant Director at Homeland Security Investigations, Department of Homeland Security.
July 30, 2019: Children are used as "passports" into the U.S.:
"Border Patrol alone has identified 5,800 fake families. HSI, the investigative element of ICE, has put resources down there. They discovered hundreds of fake families. The stories are happening every single day, and it is very clear, it is very clear, senator, is that they know you grab a kid, that's your passport into the United States because of the Flores Settlement Agreement. That has to be changed, and it is going to take a legislative fix to do that."
- Mark Morgan, Acting Commissioner, U.S. Customs and Border Protection, Department of Homeland Security
July 30, 2019: Smugglers advertising a safe and legal journey to the U.S.:
"Smugglers openly advertise a safe and legal journey to the United States. They tell migrants and their families that there is a policy in the United States that anyone who arrives with a child will not be deported. We have stats and facts to show that is exactly what is being communicated, and our laws support that perception.
- Mark Morgan, Acting Commissioner, U.S. Customs and Border Protection, Department of Homeland Security
November 13, 2019: Current average daily border apprehensions far exceed what Obama's DHS Secretary considered a bad number:
"But I'll never forget an interview that Secretary Jeh Johnson, the DHS secretary under President Obama, gave to MSNBC a few months ago. He said when he had come to the office and the numbers were more than 1,000 [border apprehensions], he knew he had a really bad day. So we're still 372 on average [in] one day over Secretary Jeh Johnson's really bad day."
- Chairman Ron Johnson
###